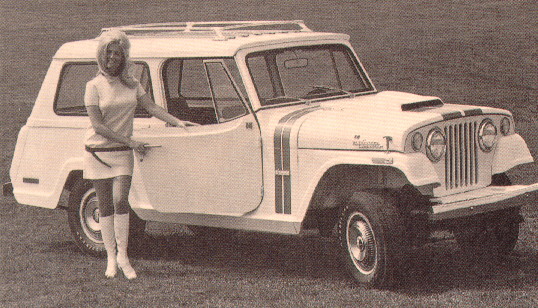 I recently came across an interesting website at Hurst Jeepster.com The site is all about the elusive Hurst Jeepster. Most people do not realize that there was a special production "Hurst" Jeepster, just like most do not realize that there was a "Stroppe" Bronco. The following excerpt is from the site:
The Hurst Jeepster (modeled above by Linda Vaughn) was a joint project between Hurst Performance Products' George Hurst and the Jeep engineers. This project actually began while Jeep was owned by Kaiser Industries, but the model didn't appear on the showroom floor until after Jeep had been purchased by American Motors Corp. Originally Jeep planned to produce 500 of these special editions (300 automatics and 200 stick shifts), but in the end it is believed that only around 100 were ever driven off of the assembly line making it a very special vehicle. The reasoning behind the lower production total was likely because AMC had plans to redesign the Commando model for the following production year.
What was so special about the Hurst Jeepster? You will have to go over to the site at www.hurstjeepster.com and find out!