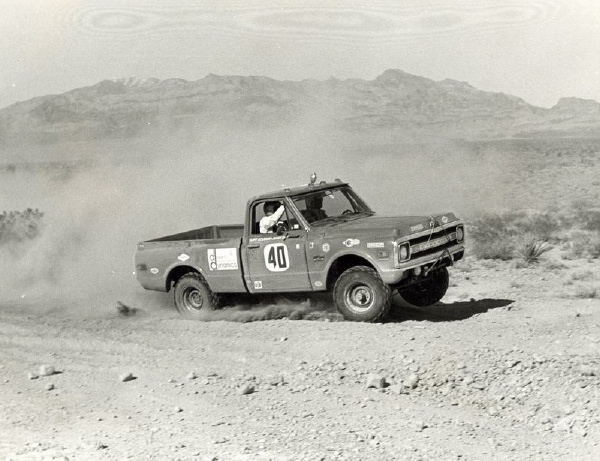 I have been talking to Ron Johnson from Washington state for the last year or so. He is, from what I have seen, the worlds best historian on Vic Hickey race vehicles. Not only does he own an incredible amount of photos, magazines and other Hickey memorabilia, but he also owns a few original Hickey race vehicles! Rick has sent me a ton of pictures over the past year and I will be slowly posting them up here over the next few months.
First off, we have a few photos of the 1969 Vic Hickey Chervrolet truck that was driven by Cliff Coleman, Bud Ekins, Johhny Dias, Mickey Thompson and Chuck Coye. Ron Johnson currently owns the truck in unrestored condition. It is just like it was in the late 60's and early 70's…scratches, dents and all! Ron has displayed it at different race venues across North America, like the Baja 1000 and Mint 400. It always draws a crowd! I will post some current pictures of it later. For now, these old black and whites will have to do…something to wet your appetite! This is when drivers were tough! A few inches of wheel travel, open face helmets…forget this 24″ of wheel travel and gps crap!
I do have one question that Ron or someone else can help out with. What the heck is the co-driver doing in the back of the truck in the photo below?
If you have information or more photos about Hickey race vehicles, please feel free to email me.