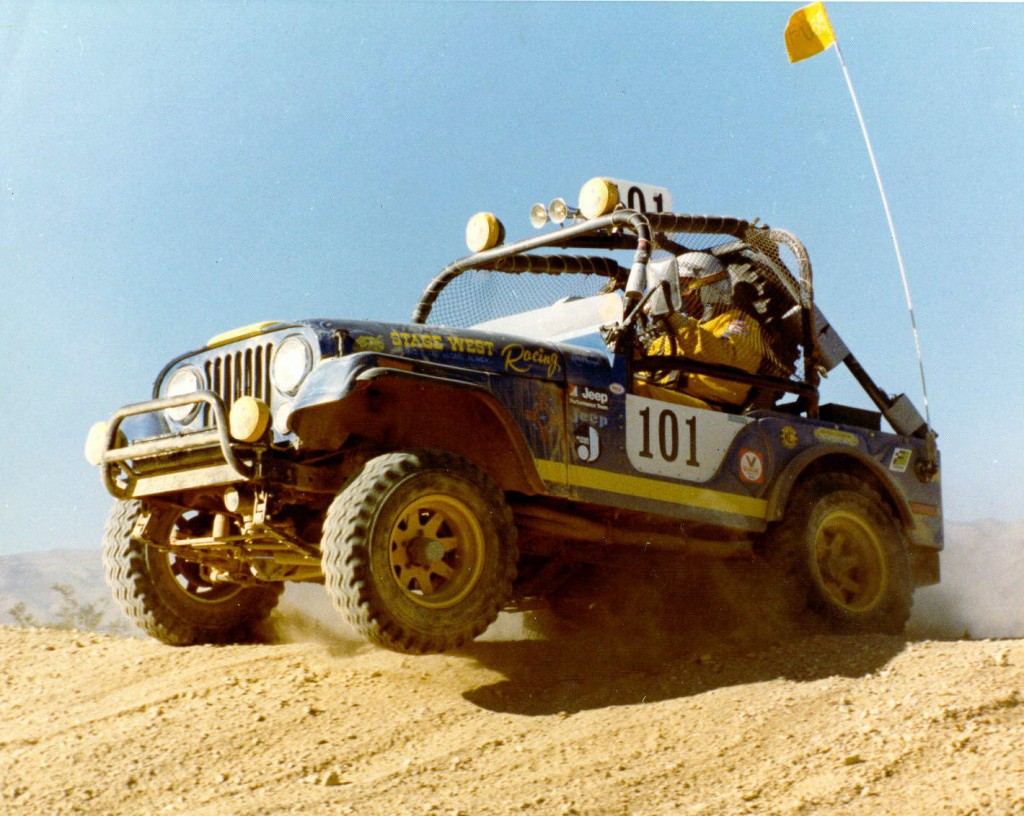 Recently, Kevin Vaughan sent me some photos of the 1972 Jeep CJ-5 that his uncle Jim Vaughan used to race in the desert in the 70's. I will let Kevin tell the story in his own words.
"In 1973, my uncle, Jim Vaughan, bought a 1972 Jeep CJ5 with a 304 V8 and a 3-speed. He dubbed her "Baby Blue" — for her color, and that was the CB handle he used. In 1976, he converted Baby Blue to a race car. It was a pretty typical home-built car: Smittybuilt cage, Simpson fuel cell, double shocks, strapped axels, Stroppe nerf bars front and back, KC lights. After two years of running, he and his co-driver, Keith Morgan, tore Baby Blue all the way down and rebuilt it with a tougher suspension, more wheel travel, more horsepower, MasterCraft racing seats and a new paint job. He was a pretty typical off-road racer of the time — running here and there, having a lot of fun, and spending a lot of his money on axles and other assorted parts that got mangled. He ran his last race in 1980.
I was able to go to several races in Colorado with him, and those were great times. Sometimes I fantasize about tracking Baby Blue down (her next owner was running her in mud bog races last a heard, but that was a long time ago) and restoring her to her original blue-and-yellow look, which I always liked the best.
I've attached photos (First 4 photos below)of Baby Blue in her pre-race-car days, after a collision with a baja bug broke a fuel line and sparked a big fire at the 1977 Mint 400, and in her new look for 1978. There's also a shot of Baby Blue at the Colorado West 200 in 1977. My uncle's friend, Bronco racer Rick Fliam, is sitting in the driver's seat, and that's me, at 13, in the passenger seat."
Great story and awesome photos Kevin! I hope you find another CJ5 and restore it to be just like your uncles.