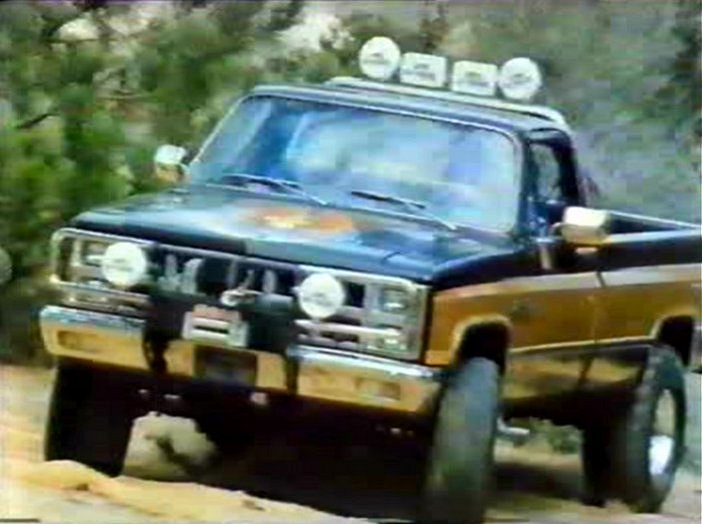 Probably a better question is who does not remember the Fall Guy? A lifted GMC truck jumping over fences, ponds and who knows what else. I mean really, whas there any other shows in the 80's that had better action than the Fall Guy, Dukes Of Hazzard and the A Team? For those that are too young to enjoy the memories, the show was centered around Colt Seavers (Lee Majors), who is a hollywood stunt man that takes on bounty hunter side jobs. Colt Seavers…what an awesome action hero name! "Dog" has nothing on this guy! His cousin and fall guy in training Howie Munson and stunt lady Jody Banks (Heather Thomas) accompanied Colt in his venture to capture criminals. The show ran from 1981-1986.
Colt's truck was an early 80's GMC pickup. Most of the time it was a long box, although short boxes were seen from time to time. The truck was two tone brown and tan with an eagle on the hood and "Fall Guy Stuntman Association" below it. It had the typical 80's accessories like a 6 inch lift with Dick Cepek tires and chrome spoke wheels. In the bed there was a double tube chrome roll bar with chrome lights on top. Out front was a chrome Warn grille guard with a Warn winch and 2 chrome lights.
Due to the nature of the show, several trucks were used. The majority were 81-86 GMC trucks, but the pilot episode used a 1980 GMC. After destroying numerous trucks, a jump only truck was made. The engine was mounted back almost a foot (mid mount) and the frame and axles were heavily reinforced. You can notice the engine hanging below the frame and mid mount in some of the photos below.
What are your memories about the Fall Guy? Do you have any more photos or videos that we have missed? We are always looking for more information about the Fall Guy truck!
Note: If you are reading this via email or Facebook, you may need to go to Off Road Action to view the videos.