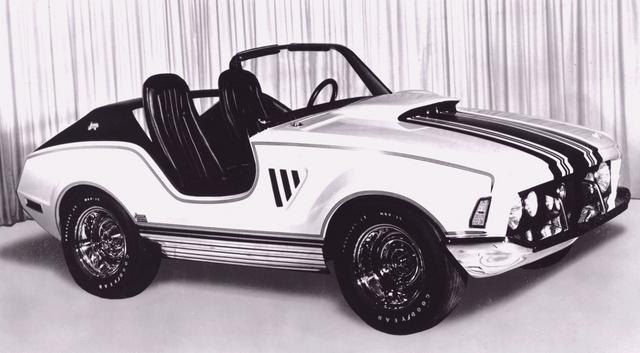 December 15, 2010 Edit: The bottom photo at the dealership should have credit given to Homer and Glenn Miller. It was taken at Johnsons Jeep dealership in Riverside, Ca. Dealer owner Jim Johnson is in the middle with the brown shirt and glasses. Also thank you to Jim Johnson Jr and Adam Sparks from Early CJ.5 .com for clarifying this.
You have to admit that the Kaiser Jeep Corporation gave us some very interesting vehicles in the 60's. The Forward Control Jeep truck, the fullsize Wagoneer SUV, the Jeepster Commando and more. So, why is it such a surprise when you see photos of the 1969 Jeep XJ001 prototype, which is in reality a Jeep off road sports car. The whole concept was the brain storm of Jim Anger and the group of Jeep designers. Since outback adventures were starting to gain popularity at the time, the idea behind the concept was to develop a vehicle that would be fun to drive on the street as well as off road.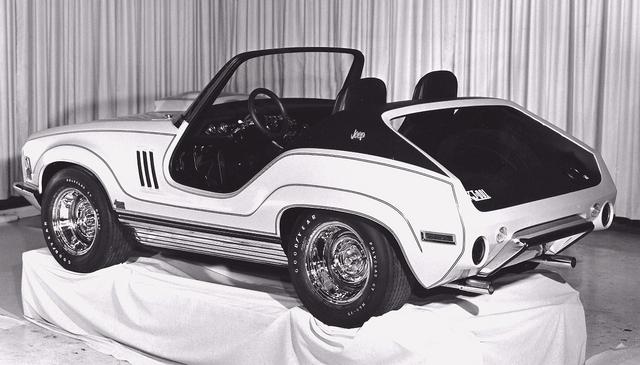 The project started with an 81 inch Jeep CJ-5 chassis and kind of went out of control from there. A unique fiberglass body was molded and featured sports car styling with "scooped" door openings, very short approach angles, a thick windshield frame that worked as a roll bar and spoiler at the rear. The Jeep CJ-5 came with a V6 at the time, but a 360ci V8 was shoehorned into the concept. Another unique drivetrain modification to this 144″ long and 72″ wide prototype was the "Quadritrac" full time transfercase, which would eventually become the Quadratrac system that was introduced in 1973. The H60-15 Goodyear Polyglas GT tires on wide chrome rims brought the power to the ground.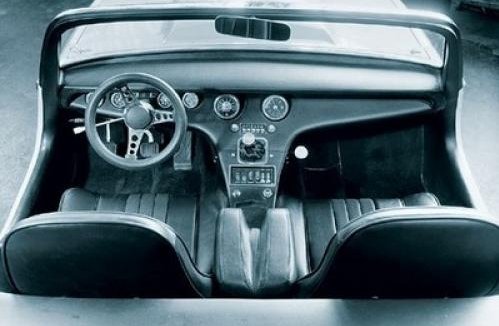 The interior was all sports car, from the sporty steering wheel to the fiberglass molded seats and console. Stewart Warner guages filled the dash while the ignition switch, heater controls and shifter were integrated into the console. The Jeep XJ001 debuted at the 1970 New York International Auto Show and was an instant hit. However, with AMC purchasing Kaiser in 1970, it was decided that there was not enough funds or need to take the concept car into production. The Jeep XJ001 continued to tour the new car show circuit until it met its demise when the vehicle towing it was involved in an accident in Texas. The concept car burned to the ground and a unique piece of Jeep history was gone.
Information and photos for this article were taken from Hemmings , Popular Mechanics , and Car Styling.