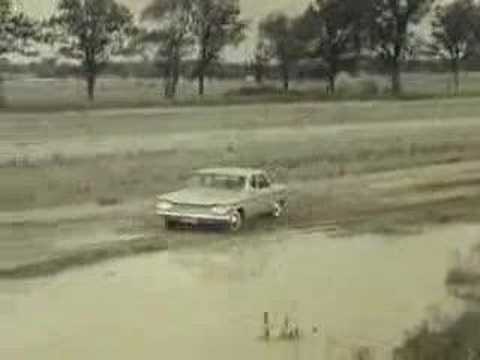 Years ago, I heard a story about 3 Corvairs that crossed the Darrien Gap in South America. Honestly, I passed it off as gossip. The version I had heard was that the cars started in Alaska and drove the complete Pan American highway. The cars were in such good shape that they decided to cross the impassable Darien Gap. Yeah….



In fact, Chevrolet drove 3 Corvairs through the Darien Gap in 1961. The cars were actually the same cars that drove the Pan American highway from the USA, through Mexico and to the then-end of the Pan American Highway. I am not sure what prompted the team to continue driving through the swamp land that seperates Panama and Columbia. One car was left in the jungle, while the two remaining cars were left in South America. They probably ended up as taxis or chicken haulers. Although the details are sketchy, one crew member was confirmed killed. It is rumoured that the death was caused by a wild animal. Sources: Corvairs.org
Note: If you are reading this via email or Facebook, you may have to go to Off Road Action .