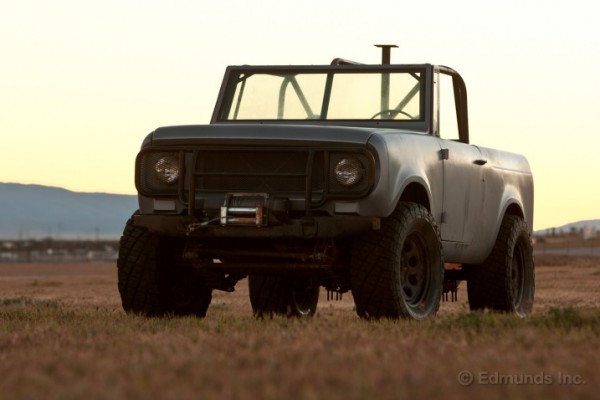 I just don't understand it. Originally, there was to be 12 International Scout 800's in the Fast Five movie. The original intent was to have them driven by the Brazilian military. However, that idea was kiboshed by the production designer and instead the military guys were forced to drive VW Touaregs. WTF? Do they stop by Starbucks before they head out to battle? I thought the military drove real trucks! Vehciles that could take a beating and keep on going?
"The idea was that the Brazilian military should be driving in something that looks tough," explains Fast Five's Picture Car Coordinator Dennis McCarthy, "but not necessarily something you'd see every day in the U.S. So I came up with the idea of building some first-generation Scouts. When was the last time anyone had even seen one? However, the production designer absolutely hated the Scouts," reports McCarthy. "We had already built five and were getting ready to build seven more, but he didn't want them anywhere near the film. So they were relegated to background duty. Blink and you'll miss them."
The 1968 International Scout 800 in the video below was heavily modified. A 300hp 5.7 litre Chevrolet small block was coupled to a Turbo 400 transmission. A custom front bumper and grille guard make chasing the bad guys through the jungle a little easier. The custom roll cage is there just in case, as is the machine gun mount.
NOTE: If you are reading this via email or Facebook, you may need to go to the Off Road Action website to view the video.