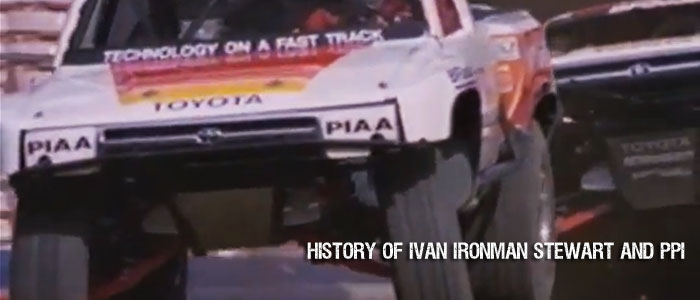 Ivan "Ironman" Stewart has been my favorite driver since I first discovered off road racing in the 80's watching the Mickey Thompson Stadium Series.  I recently came across this 30 minute video about the history of Ivan and PPI Racing.  It's geared towards their 015 Trophy Truck that was recently restored and put up for sale, but there is a ton of old footage and interviews about the history of the team since 1980 running the MTEG series and desert racing.
For 17 years, PPI and Ivan "Ironman" Stewart ruled the intensely competitive world of off-road racing.
Of their 88 total victories, four Baja 500's and one Baja 1000 were accomplished using chassis number 015. Built in 1993 to replace PPI's aging 010 chassis, the 015 would become the Master's thesis and, ultimately, final product of a remarkably successful off-road team. This video was produced to commemorate the restoration of 015.
RK Motors Charlotte is offering a chance to own this amazing piece of automotive history. Visit (phtotos and info about TT 015) for more info from RK Motors.