Back in March 2013 we posted a restored Suzuki LJ20 Jimny Brute IV that sold for $7200.  This one recently posted on eBay and is at $3850 with 4 days left to bid.  It has 54k miles on it and the owner says it runs great.  There were only 800 of these pre-Samurai Suzuki's imported into the US so if you are a LJ20 fan this could be the one for you.  There are links to more photos on the eBay listing.
UPDATE 1-12-14: We just noticed that the seller ended the eBay auction early.  We contacted them to see if it sold.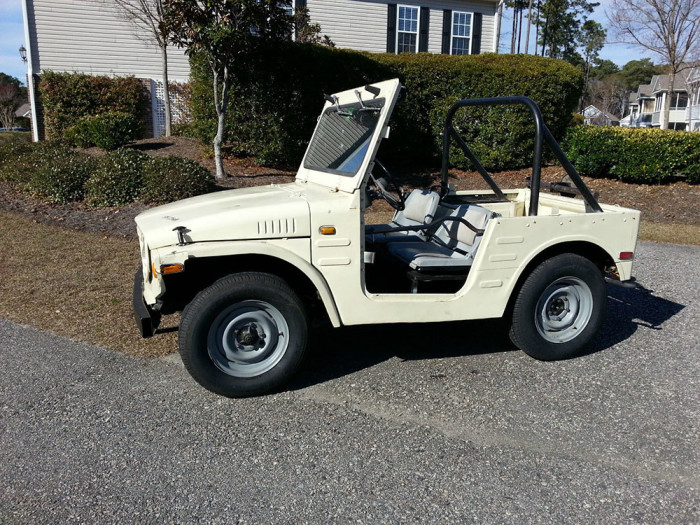 Suzuki LJ20 info:
The LJ was updated in May 1972 and renamed the LJ20. The grille bars were changed from horizontal to vertical for the LJ20. The engine was replaced with an updated, water-cooled unit (the L50), and its 28 PS (21 kW) enabled the LJ to reach 80 km/h (50 mph). A special version with the spare tire mounted behind the passenger seat allowed for two small rear seats, facing each other. The introduction of left hand drive signalled Suzuki's worldwide ambitions for the truck. The Hard Top (Van) was also introduced when the LJ20 arrived, equipped with smaller, 15 inch wheels. Suzuki themselves did not export them to America, a US company called IEC (International Equipment Co.) imported them. Export Jimnys had the spare tire mounted on the outside, as Kei regulations on length did not apply.