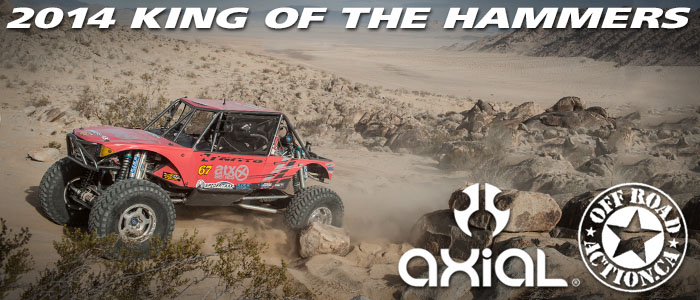 King of the Hammers is one of those events that is truly a sight you must see for yourself. Near the top on any off-road enthusiasts bucket list just as the Baja 1000, the Fall Run at Crandon or the Dakar Rally, the King of the Hammers is more than a race but an experience.
The week long event packs in a daily showing of races from motos, utv's, Jeeps, to the full fledged 700hp rock racers.
As entertaining as the other events at KOH are, it is the main event for the "King" is what over 50 thousand people from all over the world gather to see. Overnight a small city known as Hammer Town would form in a unlikely setting as these die hard off-road enthusiast would descend upon Johnson Valley to witness the vehicular carnage.
Qualifying from the days before had Nick Nelson on the pole to start the event leading 156 others into what was described as one of the toughest KOH's ever.
Leading the pack was a past "King" Loren Healy who would battle from the ninth qualifying position to the front and that is where he would stay for the remainder of the race.
"I can't believe it." said Loren Healy after crossing this finish-line, "We've been winching over giant boulders every two miles in this last section. The car blew out the front axle shaft so last thirty miles we're in 3-wheel drive and it made it really tough." "We knew it was close, we put a hole in the radiator and we thought it was over, but luckily my crew did an amazing job getting it going. They got us out quick and it obviously made all the difference. I can't say enough about them, with them we wouldn't be standing up here on the top spot! To them and my sponsors a big thank you to all, we couldn't have done this without you!"
 Having multiple attempts under his belt Tony Pellegrino had his best finish in 2nd spot on the podium.
"Oh ya, that was a lot of work!" said Pellegrino at the finish. "That course is so rough and tore up, I have to tell you, my team is the best. All these guys we got here, I just can't thank them enough for what they do." "We just drove our race, we totally disregarded anyone else and what they were doing or where they were at and drove at our pace. We picked a few off here and there like out at Spooners and Outerlimits but just worked it. Towards the end there we couldn't tell if we were passing the guys on the lead lap or lap traffic, so just took our time and tried not to beat up the car or anything so we could just get to the end." "I have to say I worked my co-dog pretty hard today where he had to get out and work the winch but other than that we just kept our pace and it paid off. We're so happy to be there at the end."
Bill Baird landed 3rd podium spot in the 5252 car.
Only 32 of the 156 who started the race would finish and even though the attrition rate was high with broken cars, parts and dreams strung across the open desert like a Saturday morning yard sale; all swore they'd be back to take another run for the King of the Hammers. If you live for the adventure of life then this event is one you should experience at least once, you will not be disappointed.
Top 10 results:
1. LOREN HEALY 67
2. TONY PELLEGRINO 4485
3. BILL BAIRD 5252
4. JAKE HALLENBECK 4775
5. DEREK WEST 4420
6. RICK MOONEYHAM 554
7. TOM WAYES 321
8. ALEX HARDAWAY 4481
9. RANDY SLAWSON 4448
10. ANDREW MCLAUGHLIN 4493
Words & Photos by Art Eugenio – GETSOMEphoto
Visit Axial Racing at axialracing.com
Links to more 2014 KOH coverage on ORA:
Vintage rides at the 2014 King of the Hammers part 1.
Vintage rides at the 2014 King of the Hammers part 2.