Steve Heckert recently sent us these photos of his three 1968 Burro Buggies.  Notes from Steve about each one is below with the photos.  Steve is also searching for info and location of the SS Burro Buggy – Read about it here.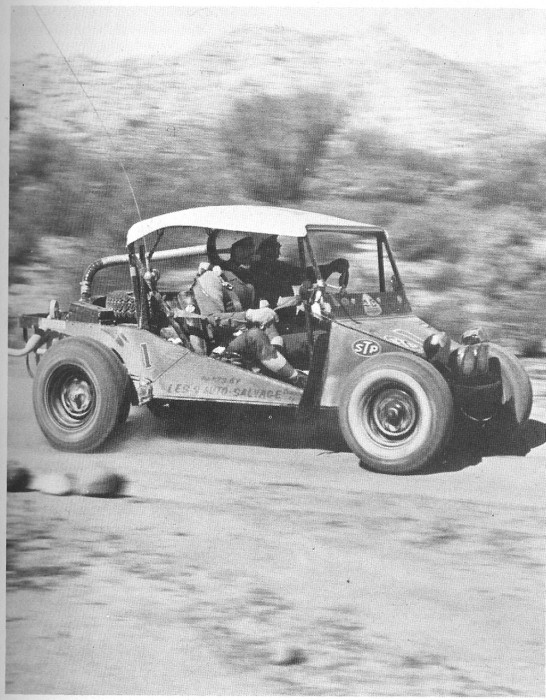 #1 Burro was Tiny Thompsons personal Burro. It was raced by Tiny, Les Choat, Chuck Andrade, Gary Weers and Don Richards. 1600 single port with Zenith and original Four Tuned exhaust, bus reduction box trans with alpine gears, link pin front end. Original hand painted lettering is still on the Burro. See race results sheet.
#8 Burro is a Les Choat built Burro. Driven by Les, Andy D and Don Richards. 1835cc duel port with Zenith, 1968 IRS Bus trans, ball joint front end and Manx exhaust. I ran this Burro in the 2010 NORRA 1000, 6th in vintage class.
#77 Burro. A one of a kind. This was Bob Sinclair's Volvo B 18 powered Burro. Bob was the president of Volvo Cars back in the 60s and 70s. He later became the president and CEO of SAAB Cars of N America and Canada. Raced by Bob Sinclair , Bob Anderson, Tiny Thompson, Les Choat and Bob Thomas of the LA Times. Volvo B18 motor, VW Bus reduction box trans and ball joint front end. This Burro is in Harrah's Auto Museum in Reno. Bob and the Burro was pictured and wrote about a lot after the 1968 Mexican 1000 because they rolled the Burro 60 miles from La Paz and sheared off the left spindle. They up righted the buggy and drove the last 60 miles on three wheels and still ended up 4th in class and 21st OA!