This Friday August 1st the Frank "Scoop" Vessels 1972 Ford F100 will be up for auction in Los Angeles.  Check out all the details and more pictures below. Note – The auction lists it as a 1976 but it's a 1972 F100 that was built for Vessels in 1976.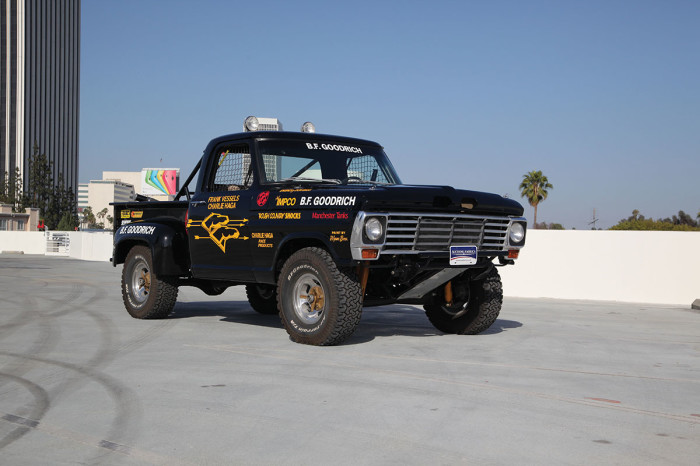 1976 video featuring the Frank "Scoop" Vessels F100 winning the Baja 500:
Frank "Scoop" Vessels' 1972 Ford F-100 to be sold on Friday, August 1, 2014
All proceeds benefit the Off-Road Motorsports Hall of Fame
Bidding can by done in person, by phone, or online
Offered without reserve
AUBURN, Indiana (July 9, 2014) – An innovative piece of off-road racing history will be auctioned for a good cause this Friday, August 1: The Class 8 Baja-winning 1976 Ford F-100 campaigned by Off-Road Motorsports Hall of Famer Frank "Scoop" Vessels will go on the block. All proceeds from the truck's sale will benefit the Off-Road Motorsports Hall of Fame, which is housed in the National Automobile Museum in Reno, Nevada.
The truck helped revolutionize off-road racing. BFGoodrich used this F-100 to test its first-generation off-road radial tire. Previously, off-road tires were agricultural-based bias-ply designs — not optimal for high-speed durability and control. "Scoop" Vessels and his 1976 F-100 proved that radial tires were the wave of the future by capturing the 1977 Baja 500 Class 8 win on the new BFGoodrich Radial All-Terrain T/A. Vessels also won class honors in the Baja 1000 that year on the new BFGs.
The truck was built for Vessels in 1976 by Charlie Haga. Not only was this F-100 the first to win an off-road race on radial tires, another technological tidbit is that it ran on propane: The F-100's 404-ci Ford V-8 was converted to an Impco LPG fueling system by Don Bass. Propane's density is consistent, solving the fuel-starvation issues inherent in normal carburetors when off-road vehicles encounter uneven terrain and altitude changes. (Fuel injection wasn't viable at the time.) The F-100 currently runs on gasoline.
Behind the Ford V-8 is an Art Carr race-prepped Ford C-6 automatic. The rear end was built by Jack Chrisman. Other period components include Rough Country shocks, custom disc brakes, American Racing wheels, BFGoodrich Radial T/A tires, and F-250 spindles with knock-off hubs. This truck was refreshed for display in 2005. It was recently housed at the Petersen Automotive Museum following a multi-year appearance at the Off-Road Motorsports Hall of Fame.
Driver Frank "Scoop" Vessels' off-road racing career spanned three decades. Debuting as SCORE's 1972 Rookie of the Year, Vessels went on to capture 30 major victories and four points championships. SCORE (Southern California Off-Road Enterprises) named Vessels "Offroadsman of the Year" in 1978.
Born into the founding family of Southern California's Los Alamitos Race Course, "Scoop" got his nickname from cleaning horse stalls as a youth. Later, his corporate connections helped attract sponsorships and international media attention to off-road racing. Vessels also helped launch the NASCAR Truck Series and served as president of the American Quarter Horse Association and California Thoroughbred Breeders Association.
Frank Vessels was inducted into the Off-Road Motorsports Hall of Fame in 2007. This exclusive club also includes Steve McQueen, James Garner, Parnelli Jones, and Mickey Thompson. Tragically, "Scoop" died in a plane crash in 2010.
Potential buyers of this historical piece of off-road racing lore — estimated to sell for $75,000-$100,000 — have several ways to bid. Bids can be placed in person when the truck goes across the block at Auctions America's California Sale on Friday, August 1, at the Los Angeles Marriott Burbank Airport Hotel. For remote bidding options, please click here: http://www.auctionsamerica.com/buying/index.cfm
For further information on Auctions America's upcoming California Collector Car Auction or to download the digital catalog, visit auctionsamerica.com or call toll-free 888.990.3910 (or +1 310.842.3910 outside North America). As part of Auctions America's multi-year agreement with NCBSN (NBC Sports Network), select highlights from the auction will telecast on the Emmy award-winning network on August 1-2. A full coverage schedule is available here: http://www.auctionsamerica.com/NBCSports/.