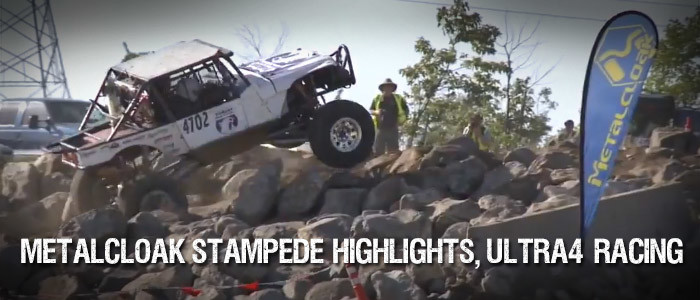 A record breaking 115 drivers took part in the 2015 MetalCloak Stampede held at the Prairie City SVRA park outside of Sacramento.  With thousands of fans present for a full day of racing, the event was the largest to date for ULTRA4 Racing at the park in both car count and spectator turnout. The 2014 Nitto Tire National Champion, Loren Healy wasted no time in establishing dominance in the 4400 class and maintained his lead throughout the weekend.
Friday afternoon saw the first prelim races of the weekend for the unlimited class. Healy was the fastest qualifier in the fastest heat which put him in pole position for Saturday's morning heats. Last year's Stampede winner, Tom Wayes lead his heat, along with Shannon Campbell and Andrew McLaughlin winning their respective heats. On Saturday morning, Healy once again dominated his heat putting him on the pole in the main event. In the main it was both two-time King of The Hammers winners, Healy and Campbell neck and neck for the first half of the race. Eventually, Healy established a lead while passing lap traffic in the rocks and never looked back.  Shannon Campbell maintained a comfortable 2nd place throughout the remainder of the race, and Wayland Campbell in the last seconds of the final lap edged out fellow Nitto driver, Derek West for a 3rd place finish.
For the first time in ULTRA4 history, the limited and UTV classes outnumbered the unlimited 4400 class at the MetalCloak Stampede. The largest limited classes were the 4500 modified class and the 4800 legends class. The 4500s and the 4600 stock class raced together as did the 4700 spec cars and the 4800 legends cars and the UTV Sportsman and Pros also raced together throughout Saturday's prelims and main events.
One of the most exciting races of the weekend was in the 4700 spec class as the "Beast from the East" Damon Bradshaw took on Ricky Johnson and his son Luke Johnson in identical spec cars.  Both Johnsons are committed to race the entire Trail-Gear ULTRA4 West Coast Series. In the 4700 main race, 18 year old Bailey Cole lead Ricky Johnson for several laps as the two battled it out side by side, with the elder Johnson eventually gaining the advantage over Cole. Ultimately, Ricky Johnson took first, Bailey Cole 2nd, Luke Johnson 3rd. In the 4800 legends class which raced alongside the spec cars, Mike Amaral took the checkered flag winning his first ULTRA4 race followed by Ernie Hardaway and newcomer James Hubbard.
In the 4500 modified class, Shawn Rants took the checkered followed by Justin Hall in 2nd and Cody McBride in 3rd. In the 4600 Stock Class, Matthew Peterson took 1st followed by Ben Varozza in 2ndand Sean McNamara in 3rd. In the UTV Pro Class, John Duckworth took first followed by Buzz Bronsema and Luke Horschel. In the UTV Sportsman class, Phil Cagliero took first followed by Nathan Unruh and Mel Wade IV.
The next race in the ULTRA4 Nitto National Championship will be the ULTRA4 Race at Badlands Off Road Park in Attica, IN on June 26th and 27th. The next Trail-Gear West Coast regional race is the 4 Wheel Parts Glen Helen Grand Prix which will be held July 10th and 11th at Glen Helen Raceway in San Bernardino, CA. The first ULTRA4 Europe race of the season is the King of Italy which will be held in Parma Italy between June 18th and 21st. For more information on ULTRA4 Racing please visit www.ultra4racing.com
2015 MetalCloak Stampede Race Results
4400 Main Event
Finish
Car#
First
Last
Time Scanned
Laps
1
67
LOREN
HEALY
18:48:21.5
12
2
5
SHANNON
CAMPBELL
18:48:51.9
12
3
3
WAYLAND
CAMPBELL
18:49:47.3
12
4
20
DEREK
WEST
18:49:48.4
12
5
81
LEVI
SHIRLEY
18:50:20.6
12
6
4431
MIKE
KLENSIN
18:50:26.7
12
7
65
ROB
KIRBY
18:51:07.9
12
8
321
TOM
WAYES
18:49:06.3
11
9
54
MIKE
BOU
18:49:44.2
11
10
4441
DARREN
HENKE
18:49:47.0
11
11
53
CHRIS
HOYT
18:50:43.0
11
12
1014
JEREMY
EALAND
18:50:45.8
11
13
19
PAUL
HORSCHEL
18:51:00.2
11
14
4459
KEITH
XAVIER
18:51:02.2
11
15
4493
ANDREW
MCLAUGHLIN
18:52:27.6
11
16
3006
ROWDY
TRUBENBACH
18:48:27.4
10
17
7779
KENNETH
GOODALL
18:49:24.6
10
18
4215
ERIC
MIRAMON
18:49:46.3
10
19
10
JUSTIN
FOXWORTHY
18:50:39.4
10
20
210
GREG
ADLER
18:44:42.2
9
21
966
JASON
BLANTON
18:50:13.3
9
22
888
CODY
ADDINGTON
18:41:55.0
8
23
4481
ALEX
HARDAWAY
18:27:54.4
3
24
4486
MARCOS
GOMEZ
18:28:59.0
3
25
5150
BRENDEN
THOMPSON
18:25:35.5
2
26
75
SCOTT
FOLEY
18:26:31.6
2
27
44
GARY
FERRAVANTI SR
18:22:31.6
1
28
27
JON
CAGLIERO
18:23:18.9
1
4800 Main Event Results
Finish
Car#
First
Last
Time Scanned
Laps
1
4828
MIKE
AMARAL
17:31:37.3
8
2
4881
ERNIE
HARDAWAY
17:32:01.9
8
3
46
JAMES
HUBBARD
17:32:10.3
8
4
23
JUSTIN
DAY
17:32:12.0
8
5
4829
KURTIS
HARRYMAN
17:32:14.2
8
6
4871
DAVE
SCHNEIDER
17:29:59.1
7
7
4840
DENNIS
LAPP
17:30:57.5
7
8
4852
RICHARD
FENTON
17:31:56.8
7
9
4824
SEAN
LEONARDINI
17:22:44.2
5
10
4836
MATTHEW
KILE
17:22:54.1
5
11
444
RICK
WATERBURY
17:18:48.2
4
12
775
ROBERT
DALY
17:16:38.8
3
13
4850
TYLOR
TRAMMELL
17:15:20.9
1
4700 Main Event Results
Finish
Car#
First
Last
Time Scanned
Laps
1
4748
RICKY
JOHNSON
17:29:42.5
7
2
4702
BAILEY
COLE
17:29:49.9
7
3
4714
LUKE
JOHNSON
17:32:41.1
7
4
4708
ROWDY
TRUBENBACH
17:30:43.9
5
5
4745
DAMON
BRADSHAW
17:16:19.0
2
4600 Main Event Results
Finish
Car#
First
Last
Time Scanned
Laps
1
4608
MATTHEW
PETERSON
15:20:40.0
7
2
4612
BEN
VAROZZA
15:20:46.5
7
3
4696
SEAN
MCNAMARA
15:17:58.0
6
4
4648
BRIAN
BEHREND
15:21:47.0
5
5
4672
BRIAN
HAYS
15:12:09.3
4
6
4651
MEL
WADE III
15:09:32.5
3
7
4605
ALBERT
CONTRERAS
15:04:19.0
2
8
4602
KEVIN
ADLER
15:00:28.6
1
4500 Main Results
Finish
Car#
First
Last
Time Scanned
Laps
1
4531
SHAWN
RANTS
15:17:56.4
7
2
13
JUSTIN
HALL
15:18:45.0
7
3
689
CODY
MCBRIDE
15:17:23.3
5
4
4554
KEITH
ULINGER
15:19:05.6
5
5
4518
MORGAN
DERODEFF
15:20:47.4
5
6
4540
MIKE
BEDWELL
15:08:42.9
4
7
4519
JOSH
NIEBUHR
15:06:42.0
3
8
4552
ANDREW
GORMAN
15:07:33.3
3
9
4580
JORDAN
TOWNSEND
15:02:29.6
2
10
4545
MAKINZIE
ALAVAZO
15:01:52.4
1
11
4583
MIKE
LADD
15:21:54.5
1
12
4511
ALAN
JOHNSON
14:56:56.9
0
UTV PRO
Finish
Car#
First
Last
Time Scanned
Laps
1
1920
JOHN
DUCKWORTH
14:33:06.9
7
2
4917
BUZZ
BRONSEMA
14:26:34.5
5
3
99
LUKE
HORSCHEL
14:13:33.0
1
4
1958
ANDREW
GORMAN
14:12:00.1
0
UTV Sportsman
Finish
Car#
First
Last
Time Scanned
Laps
1
21
PHILLIP
CAGLIERO
14:31:46.3
7
2
63
NATHAN
UNRUH
14:32:14.2
7
3
1951
MEL
WADE IV
14:33:16.9
7
4
3
DARREN
MITCHELL
14:22:15.1
4
5
4
BILL
PURSELL
14:22:49.5
3
6
90
DARIAN
GOMEZ
14:17:04.2
2
7
6
SHAWN
REED
14:20:40.5
2
8
1915
BRIAN
HOGUE
14:11:55.8
0