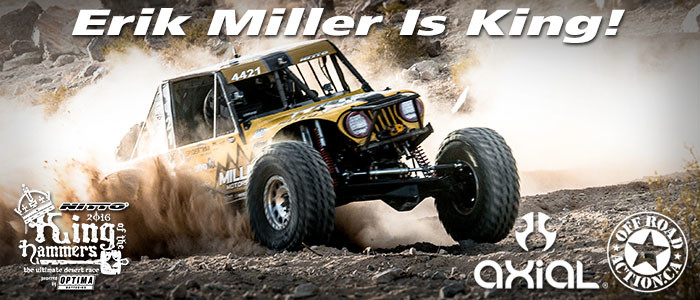 Photos by Friese Images
Celebrating it's 10th annual off-road mayhem, the 2016 Nitto King of The Hammers (KOH) has staked it's existence in the eye of every off-road enthusiast and has proven to be the absolute toughest one day off road race on the planet. Combining some good old fashion rock crawling with the pulsing power of desert racing across the dry rippled floors of Meads Lakebed located in Johnson Valley California. Never to be taken lightly, even KOH can crack the core of the savviest soul behind the wheel of an Ultra4 car.
Congratulations to the returning King Erik Miller who takes home the scepter for a second time. This young man from Cumberland, Maryland, literally rocked the Hammers in his straight axle two-seater. Finishing the 176 miles of race course in 7hrs & 30 minutes, he secured the win in this year's race. He also managed to win the love of his life's hand in marriage as he proposed on stage in front of the cameras. A "double" win for Mr. Miller.
Jason Scherer set the poll again which makes it his third time qualifing first at KOH. Jason won KOH in 2009 in a completely different car. Competing this year in his Fishmouth Fabworks built single seater, he was happy with the car's overall performance during the race finishing with a time of 7 hours & 55 minutes. "The car was amazing and I wouldn't change a thing now that we know the fans need better ventilation to keep them from working too hard. Can't wait for next year to try and get the scepter for our amazing team." Now Jason, don't you mean your "awesome" team?
A new name on the podium this year, Raul Gomez from Placerville California, completed the race in 8 hours & 23 minutes bringing home bragging rights, and a third place trophy. Back in 2013 and with only six hours of seat time, this rock crawling and four wheeling virgin tried his luck and chose KOH as his first race ever. Quickly enhancing his driving style and technique, this year he battled with some of the best. I asked Raul at what point during the race, did he realize he was holding third place? "I was coming out of Spooners and my crew told me on the radio to hammer down because Bailey Campbell was about 15 seconds ahead of me on corrected time for third place, and Shannon Campbell was hot on my tail."
Every town has its gossip. Like a bunch of housewives gathering in the driveway over a glass of pink lemonade, Hammertown was impatiently awaiting for the arrival of the new lady… Cody Waggoner's Armada engineered misstress. Without a doubt, Cody is bringing sexy back to Ultra4. "If I was going to be up with the top guys I knew I needed to build a car that was comfortable to drive and controllable to get me to that level." Thats when the owner of Lasernut teamed up with Armada Engineering and brought to you a 700hp 4wheel independent suspension rock buggy.
King of The Hammers, to go or not to go? It shouldn't be a question…
For the best in RC vehicles visit Axial Racing.
Click here to see the vintage rides of KOH 2016 part 1.
Results
1. Erik Miller–7:30:55
2. Jason Scherer–7:55:32
3. Raul Gomez–8:23:57
4. Shannon Campbell–8:26:18
5. Bailey Campbell–8:45:18
6. Jason Shipman–8:49:15
7. Brian Caprara–9:09:41
8. Randy Slawson–9:22:48
9. Macy Higgins–10:49:52
10. Smith/Webb–10:56:11
11. Clay Gilstrap–11:22:54
12. Eric Miramon–11:24:34
13. Rob MacCachren–11:27:02
14. Travis Cook–11:33:04
15. Wayland Campbell–11:33:26