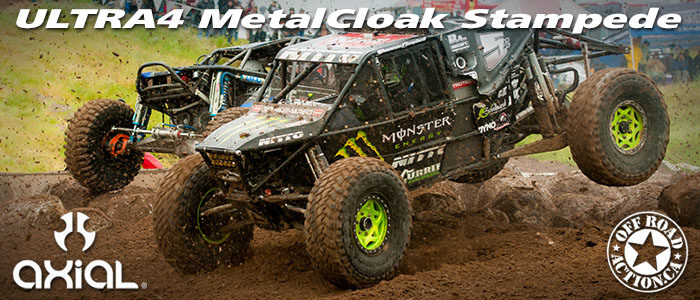 Words and Photos by Friese Images
Brough to you by Axial Racing.
Two by two, they come into view, respectively parading past the crowd.
With flashing tones of metal skin, there's a good reason for feeling proud.
Series of small explosions echoing from deep within their chamber walls, forced to be detained until the point of break, soon given the right to breath.
The flag drops… Stampede!
Drive for your life, if you're caught in the lead.
Hold onto yer hat cowboy and please do step aside, for this ain't your grandpa's cattle drive!
This is Ultra4 Racing and it's the 2016 Metalcloak Stampede. Held at the Prairie City SVRA (aka Hangtown) located in Rancho Cordova California. On April 8th and 9th both spectators and drivers gathered around for some dirt flinging and sidewinding off road racing. Folks were kissed by the sun on Friday, and spat upon by the rain gods on Saturday. Regardless, it was a knee slapping good time.
No stranger to the wind, this white hat hero was inducted into the Off-Road Hall of Fame in 2015 and just recently finished 4th place earlier this year at King of The Hammers (KOH). Obviously not his first rodeo by any means, Shannon Campbell with Campbell Enterprises tactfully raced to the front of the herd and cashed in his chips for a big ole first place finish.
Shannon started in the back of his prelim on Friday. Pushing his way to the front in just a few laps. He then loses his front differential and continues the race in rear wheel drive. Deciding at this point that "finishing" the race was his new objective, but as luck would have it, he would soon break his rear long side axle shaft, and not be able to continue. "My new car… Im still learning it. Its an animal. Its got a lot of motor in it." Shannon states.
About to throw in the towel Friday night due to a shortage of spare parts, fellow 4400 driver Jason Blanton pulls through with a spare axle. Playing it smart and not beating his car up, was Shannon's strategy for the next day.
Shannon's qualifier on Saturday started him once again in the back, although he makes his way to the front during his first lap. Once  out in front, Shannon tried to keep it steady and not get greedy.
Winning his qualifier, Shannons starting position for the main put him up front and side by side with the man to beat, the 2015 Ultra4 West Coast Champion, Loren Healey. Studying Loren's lines, Shannon was able to pre-strategize and learn where Loren was making his passes. "Every time where he (Loren) wanted to make his pass, I was in it." Followed by an unfortunate roll in the rocks, Loren Healey would be stuck on his lid which gave Shannon a chance to mosey on by. From this point on, Shannon was determined to drive smart and not take a chance of breaking his car. He was set on "finishing" the race.
Second place went to a former "King" of The Hammers who also earned second place at this years KOH. Jason Scherer with Rage 4th, started his weekend with a massive oil leak during practice on Friday. Random draw netted Jason a 10th place starting position, however a gas petal sync issue led to a DNF.
Due to his DNF, Jason would start in the very back during his qualifying. His car still experiencing mechanical difficulties. After a few laps in, you could tell something wasn't quite right. Jason's driving seemed rather conservative. That is not Jason's style. Despite the issues, he continued to finish 4th, and back in the pits was able to trace his engine issues back to a loose ground wire for the ECU.
Following Jasons history of qualifying for any race, he's been known to consecutively qualify first. "Going into the main, we had a 10th place starting spot which was as deep in the field as we have started a race for years." Jason said. Filled with passion and pride, Jason was not deterred, as he drove from 10th to 6th in less than a lap. Now pacing himself, he would chose to pass only when his next victim made a mistake. Man on a mission, Jason continues to safely pass other drivers including third place winner Erik Miller. "The engine was legit and made it less effort to get around." He said.
Scherer – "My guys also did a great job of fabricating some mud deflectors so I could see during the sloppy mud conditions. It's one thing to get roosted in the corner but when the cars slow down entering the rocks, big chunks of mud were coming in the car.  It was gnarly. Before the green flag had dropped I had pulled 3 tear-offs, just in time to see packed full grandstands."
Starting off the year with his second win at King of The Hammers, Erik Miller with Miller Motorsports continues to show his fans what he is truly made of. Winning his heat at Stampede, Erik would be third to lead the start in the main. Despite unfavorable track conditions, Erik stayed consistent with his profound driving skills and remained in the third position past the checkered flag. "I really think I prefer the endurance racing, but at the same time I've grown to love how tough the short course events are. They're brutal on the cars, they're brutal on the drivers and it takes a whole different strategy. I think that's the combination of all the different events that Ultra4 offers makes it unique and special for us drivers and to be able to perform well in all of those is a feat in itself."
Congratulations to all of the Ultra4 racers.
For a full list of results visit the Ultra4 web site.