When I took over the Off Road Action website in 2012 I had many ideas I waned to implement into the site.  One of them was a user forum so our followers could sign up and post about their builds, restorations and share their own vintage photos.  Although I still have some work to do on the overall look of the forum I officially made it live a few months ago and we've had some great threads started recently.  Whether you are a long time follower or just now found our site I invite you to check out the forum and sign up.  We would love to see what you are working on or those old photos that have been collecting dust in your garage or buried away in a folder on your computer somewhere.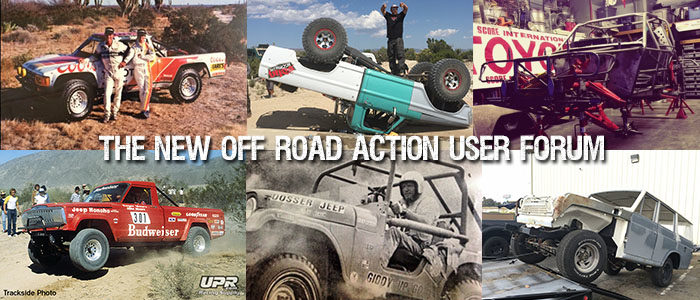 Here are some photos and links to some of the active threads in the forum:
Wardy's 1984 #001 PPI Toyota that was driven by Ivan "Ironman" Stewart. – Click here to follow along with the restoration.
Philofab's 1967 F100 prerunner "Gumby" – Click here to follow the build.
AZ45's vintage class 3 and 4 photo thread – Click here to check it out and post your own photos.
Curtis Guise's 1970 FJ55 Land Cruiser – Click here to follow the build