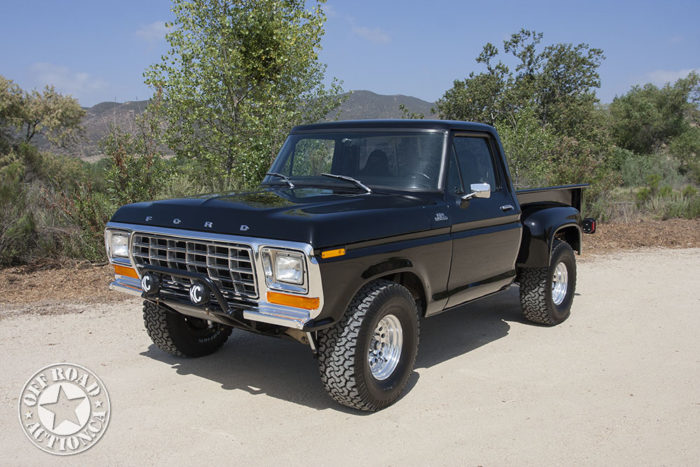 Steve Olliges started his racing career in a K Bar S Ford Bronco in the 1984 Mint 400 and continued with 3 championship seasons with the Ford Rough Riders team. He currently races a 1979 F100 class 8 built by Mark Newhan and his #27 FOX Ford Geiser Trophy Truck in the Best in the Desert series.
I've featured a few of Steve's vehicles here on Off Road Action but his 1978 Ford F100 Ranger is my favorite. Steve bought this truck in 2012 and didn't waste any time having Mark Newhan restore it back to how it looked over 30 years ago when it was originally built.
Thanks to Sandy Cone of Cone Industries I was able to find out more about the history of the truck. It was bought new by class 8 racer Jim Jacobus at Robert H. Loud Ford in Pasadena. It was just a daily driver for Jim and his wife at the time until he sold it to Jack Lynch who had it built into a prerunner by Jim Diroff. Jack had a thing for 427's so he had the stock engine removed and the 427 side oiler installed during the build. Jack eventually sold the truck to a kid who lived in Arcadia, CA and it wasn't seen for awhile until racer Max Coleman bought it. Later Max traded the truck to Joe DeWinter who passed away and his brother held onto the truck at his home in Bullhead, AZ until Steve Olliges found it. Steve and Mark took a trip out to Bullhead, made a deal and off it went to Mark's shop for the restoration.
For this build they decided to step it up a notch… While most Trophy Trucks and prerunners only have two shocks per wheel and 2′-3′ of suspension travel, they decided to utilize three revolutionary FOX 2.0 smooth bodies to dampen the 11″ of whoop swallowing wheel travel on this F100. It features the very first full floating rear end built by Sandy Cone and is powered by a Ford 427 side oiler. Lighting the way is a pair of KC HiLiTES that are upgraded to HID's. The massive 33″ BFG's on classic 15″ Centerlines make the flat biller kids rethink the 37″ tires they are trying to turn with stock gears. The interior has a pair of custom MasterCraft Baja RS seats and also a sealed center consul where sodas on ice can be stored for those long desert trips.
Steve Olliges' 1978 Ford F-100 Ranger Specs:

Make/Model:

Wheelbase:

Width:

78″

Weight:

Fuel Cell:

Front Suspension:

Rear Suspension:

Custom leaf spring, Cone Industries very first Full Floating rear end.

Ignition:

Engine:

427 Side Oiler

Tires:

33×12.50×15 BFG All Terrain

Wheels:

Centerline

Lights:

KC HiLiTES upgraded to HID

Paint:

Single Stage Black Polyurethane

Seats:

Custom Made Leather Mastercraft Baja RS with Ford Raptor styling.

Brakes:

Stainless steel Big Bite brakes
Click here to see the feature on Steve's Ford Bronco and Steve's 1978 F150 prerunner.