April 27, 2017 (Agua Dulce, Calif.): Day five of the 50th Anniversary NORRA Mexican 1000 held a special challenge for competitors who had survived the long trek down the Baja Peninsula. Traveling from LaPaz to the finish in Cabo, the cars and bikes would share the same course that had 2 special stages totaling 90 miles of dirt. With so many tight battles still raging, the final day was no victory lap. The anticipation of the awards party, and fireworks display later that evening, took a back seat to the fireworks out on the course. Cars, trucks, and bikes were going full bore to eke out every second on their competitors.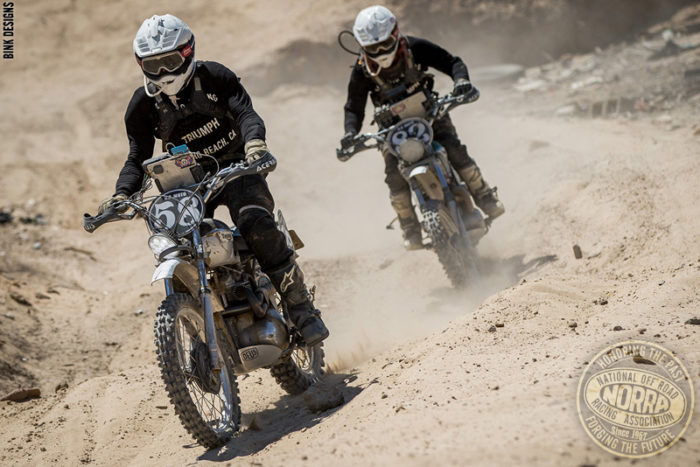 One duel taking place involved two of the fastest desert racers on the planet; Steve Hengeveld and Mark Samuels. The internationally revered bike racers were separated by only seconds for a majority of the rally. Their battle really tightened on day 2 when navigation problems caused them to band together in order to find their way to the end of a stage. On day 5, Mark Samuels would win the day but the overall victory belonged to Hengeveld.
Mark Samuels was not the only racer to make a statement on day 5. Gay Smith put down a blistering run in his Jimco Baja Bug; the fastest car/truck time of the day. Other day 5 winners were Mark Stahl, Ted Baker and Phil Peterson in their Rory Ward restored DirTrix DT2, Jay Culberson, Jon Steinhilber in his cool Myers Manx, and the menacing black F-150 Trophy Truck of Mark Post and Ed Herbst. Pushing hard on day 5 speaks volumes on the strength of these teams and the driving skill and strategy they employed to survive the toughest terrain Baja has to offer.
While some were still running strong, others were doing their best just to make it to the finish. A huge part of desert racing is the perseverance and ingenuity that many have to rely on when the going gets tough. Every kind of super human effort and bush craft is used in the normal course of such an epic adventure. The bigger the challenge, the greater the satisfaction is for these teams. They will have the best stories to tell for years to come. The challenge, the sights, the sounds, and the culture of Baja all combine to result in "The Happiest Race On Earth!". Stay tuned for more results and incredible stories to follow.