Dan Gurney died Sunday January 14th 2018 from complications related to pneumonia. When you hear the name Dan Gurney most would think of his numerous road racing wins and many innovations such as the Gurney Flap and the use of full face helmets in race cars. But after reading a few articles about Gurney's life and racing career it seems that most don't know that he also stepped into off-road racing for a bit in the mid 80's. Jim from Trackside Photo sent over these two photos of Dan racing the SCORE Riverside race in the 80's and a shot of him standing next to his co-driver Judy Smith.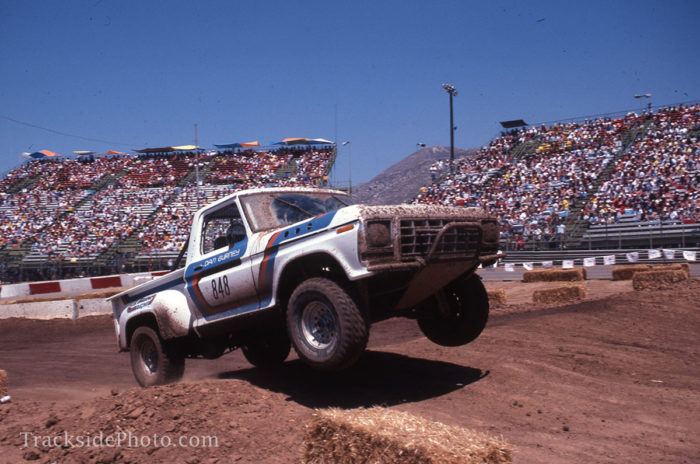 Dan is the first win in every major series, NASCAR, Formula One, IndyCar and Sports Car. He's won many other races as well and even started All-American Racers so he could fulfill his dream of building his own Grand Prix car and run his own race program. After winning Le Mans in 1967 Dan was handed a bottle of champagne and couldn't help shaking it up and spraying everyone within reach. Little did he know at the time that his spur of the moment celebration would start a tradition that happens on almost every podium around the world to this day.
Jalopnik wrote an article talking about the many innovations of Dan Gurney. Read it here.
This is the tribute film put together by The Henry Ford to help honor American racing legend Dan Gurney on the night he was awarded the Edison-Ford Medal for innovation.
Vintage photos are now available from Trackside Photo, whole collections of a particular driver or team. Call Jim Ober at 805 578-3470 or at Jim@tracksidephoto.com for details.