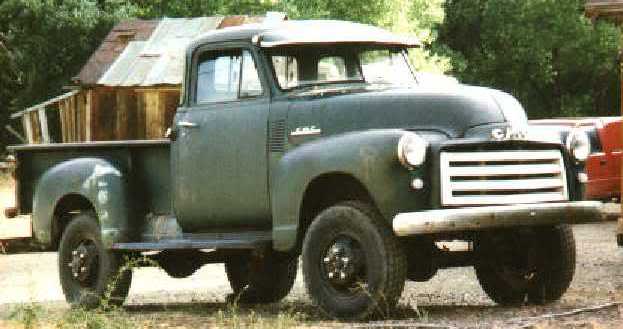 Remember those 50's & 60's Chevrolet trucks that were available as 4×4's from the factory? They were not factory 4wd, but a factory option with modifications from a company called NAPCO (Northwestern Auto Parts Company). The package was so bolt on that it only required drilling 4 holes! Eventually GM saw the benefits of offering 4wd and started producing their own versions.
The following is an exerpt from an article by Seth Doultan of Golden State Pickup Parts .
Taken from an article written by Seth Doulton, owner of Golden State Pickup Parts.
"The exact date of the GM factory 4×4, is not known. What is known is that in July and August of 1954, NAPCO (Northwestern Auto Parts Company) was pushing its proven 4×4 conversion on truck upfitters and GMC dealers across the country. Upfitters were companies that installed upgrades and accessories like winches, auxiliary transmissions, tandem drive axles, dump bodies and hydrovac systems on stock factory trucks. NAPCO had been in business since 1918. During WWII, they focused all their attention on projects commissioned by prime contractors to the United States government. Mainly, this meant the production of specialized automotive parts and assemblies that could be tested on the largest proving ground in the world: WWII. After the war, the military's priorities changed, and NAPCO re-directed its vast engineering and manufacturing experience to the production of goods for private industry. Their two-speed 4×4 conversions were comprised of 85% GM parts. That meant for the most part they were serviceable by a local dealer. Complete front axle differentials, brake drums, wheels, drivelines, backing plates, springs, shock absorbers, and universal joints were all Chevrolet replacement parts. Their slogan proudly stated that, "Now you can have a standard Chevrolet four-wheel-drive pickup featuring the traction power of a tank, or, at the flip of a finger, a smoother-riding, high-speed, over-the-road truck. Aptly named the Mountain Goat, this full-sized pickup will literally leap up mountains, as well as carry you through deep mud, sand, or snow." Some features of this shift-on-the-fly 4×4 were the unchanged turning radius, a full engine torque P.T.O. option, a rubber mounted transfer case for long, silent operation, greater ease of steering, and a guarantee of no damage to the Chevrolet or GMC frame during the three-hour installation. Yes, only four holes to drill and no torch cutting! In a matter of hours, you could go from a two-wheel drive to four-wheel drive and the NAPCO POWR-PAK could be transferred from one Chevrolet truck to another. This meant that if a dealer had a truck in stock that he wanted to convert to four-wheel drive by using the NAPCO POWR-PAK, he could order the POWR-PAK four-wheel drive package. Soon, a wooden crate, 80 inches long, 30 inches wide and 26 inches deep, would show up on his loading dock weighing in at 1,410 lbs. with all the necessary parts enclosed. Now, take into consideration that a 1/2-ton, two-wheel-drive pickup listed for $1,548.96 in 1954. The retail price of the POWER-PAK was $995, which included a dealer freight cost of $800 from Minneapolis, Minnesota (home of NAPCO). Installation by an upfitter or equipment company included the cost of the POWER-PAK, and listed at $1,248. This brought the complete list price of the finished truck to $2,796.96. These conversions were done on the 1/2-ton, 3/4-ton, one-ton, and the two-ton trucks, as well as the Suburbans and panels."
We are in the process of researching for more articles on the NAPCO conversions…stay tuned!