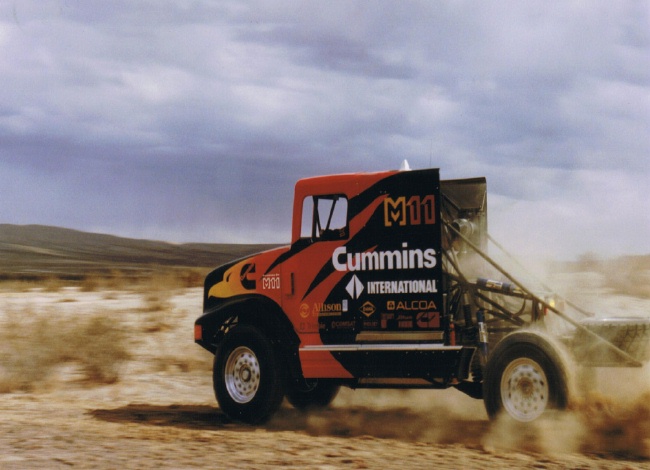 Mike Lund drove this huge rig in the 1993 Baja 1000. 11,000lbs, 1800lbs of torque! It started last, after the Class 11 Beetles. Imagine racing in a stock VW Beetle and this beast coming up behind you! Make sure to click on the photo to read the whole story and view the video! This thread on Race Dezert has all kinds of information on this unique race truck. Some of the quotes include

"Bill Savage built, Mike Lund driving. Baja 500 around '93. Named "Wild Thing". Bill took me over to see it after the race at another unit around the corner from his T-Mag shop. The budget was reported to be $500,000 which was a huge number in those days and include several Ford chase trucks painted to match."



"You're right about not finishing, but not the reason. It broke. It was either the front suspension, (cross link I think), or the steering. It happened just before Borrego on the first loop. The gap in Matomi was our concern about getting through. We never made it that far.
Mike Lund and Mary Seefried in the truck started dead last in the race. Behind the Class 11's. Ron Stobaugh and Dave Rittenhouse were waiting with us at the Wild Thing pit in Borrego to get in and take the bottom loop. Never happened. We were hosting a big group of Navistar and Cummins VIP's there. They did not find the rain to their liking any more than the cold Baja night. Can you imagine being in that first Class 11 and seeing this thing in your mirror! Then the shadow comes over the top…"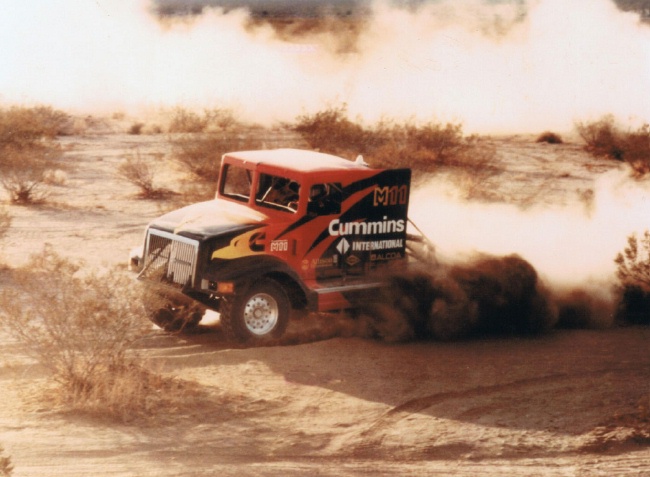 "Baja 1000 starting and finishing in Mexicali. Mike Lund driving, Marty Seefried co-dawg. I was the 2nd co-dawg scheduled to get in at Borrego. There were many "firsts" with this program:
Live satelite tracking, communication and telemetry. We could watch the progress of the truck on a virtual race map (think ion earth or iritrack), along with speed, oil temp, individual shock temp, water temp, turbo boost, etc. We could send messages to the truck, they could send to us, engineers in Indiana were also watching live and could communicate with the truck. All this 14 years ago!
There was also a very complex hospitality program for over 30 guests, some of the most powerful in the transportation industry (Cummins, Navistar, Allison, UPS, Yellow Freight, FedEx, etc) led by Bob Bower, Marty Fiolka and myself. Big dinner partys, hospitality in the desert, entertainment, golf, pre-run tours (think Wide Open Baja).
That was some of the good. Some of the bad was the truck being late to it's debut party for the funding sponsors (total budget was reported at the time well over the above amount…). The lack of testing resulted in the DNF – not the size and washes. Mike and Marty did an incredible job getting that truck around the course but it finally failed after the shocks blew, then the air bags, letting the i-beams pound the frame. It was field repaired and Mike and I drove it back to Mexicali on the highway the next day."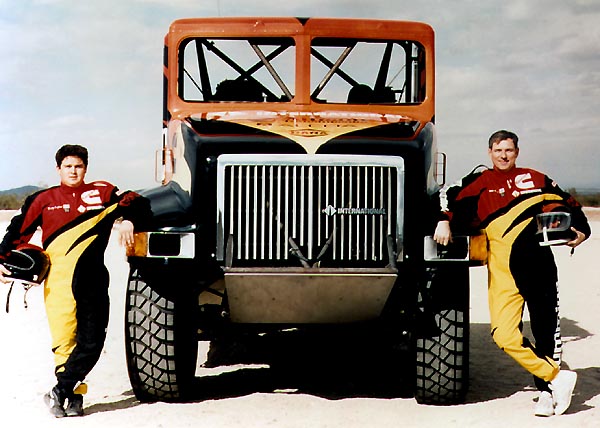 "Judy Smith reported in the January 1995 Dusty Times the following:
"There was one other entry in this event, the huge "Wild Thing", built by Bill savage for Cummins Engine Corp., to simulate the cab of an 18-wheeler. It was 8 1/2 feet tall, 8 feet wide, 16 feet long, and reportedly weighed 9,000 pounds when fully loaded with its 160 gallons of diesel fuel. It was supposed to finish without taking on more fuel. Mike Lund was the driver. The car was equipped with a Global Positioning System device, similar to that used by the MacPherson team a couple of years ago, and would be tracked through the Cummins command post back in Mexicali.
Lund got off to a good start, and even managed to pass some Class 11 cars (what an experience for them!) and some stragglers, but a shock, spring and strut assembly fell apart at about Mile 175. After repairs, Lund got it to Borrego, at Mile 192, and around, through the Mini Summit, (a sight I wish I'd seen), and back to Borrego again. By then the storm had knocked out the communications network they'd set up, and it was decided that it would be prudent to call it a day, especially considering that Matomi Wash still lay ahead."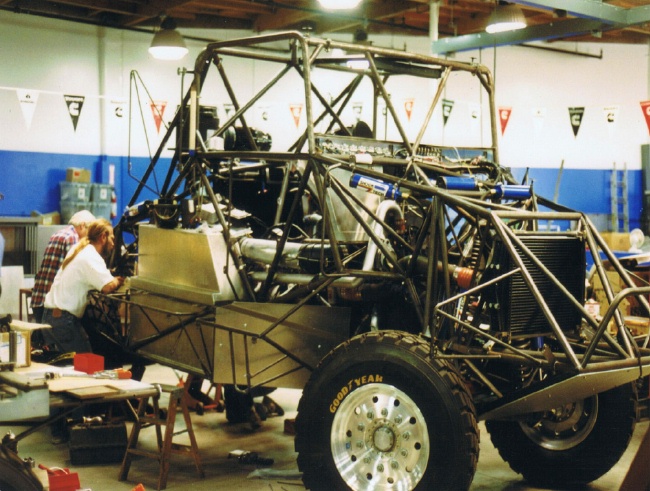 "It broke a front pivot just before Borrego in the rain. We got it fixed, got to the pit and welded on it somemore. In the midst of welding one of the brake lines got burnt, without anyone's knowledge. We get fixed, go out into the night, to find ourselves at the top of the mini summit with only front brakes. Keep in mind, it didn't stop very good when new. Down we go as slow as possible, only to find out we are going down faster than we want to be. "well, lets see if those guy's at Allison can back thier word about the trans.". Into reverse she went, 11K lbs. bouncing down the mini summit with 39″ tires going backwards, I remember looking back at them saying "awesome". Got down headed back to Borrego through all those big rolling whoops in the trees. Every now and then we would hit a really bad fog patch, well it wasn't fog, it was the shocks getting so hot, it blew the ends of the resoviors (sp) off. By the way, shock oil doesn't whipe off your visor with a rag so well. Got back to the pit, no more shocks, 2 where bent earlier in the day when the pivit broke and the whole brake thing kinda sucked. Basically ran out of time and parts.
I dug through some notes here: 11,000lbs., 130MPH top speed, twin I beem front and solid axle rear ( big diesel looking one), M-11 straight 6, turbo, 400HP, 1800 ft/lbs of torque @1200RPM, 6 speed Allison trans. (electronic shift modes) (even the down hill reverse mode), cool little satallite tracking thingy, and all kinds of neat little switches to flip.
It was fast, thats for sure. It was raining on the start (all day for that matter), we passed all the 11's, all the 9's, lots of stock full's, and some of those thruck things and where out on Laguna Salada in the mud. One lane, don't dare get out of it. We come up on a 5 car and followed this guy for too long already, "go around him" I say, Mike "OK, here we go", we pull out, the thing down shifts and we go by this guy like he's standing still, in a foot of mud, at 70-80 mph, now that's some torque."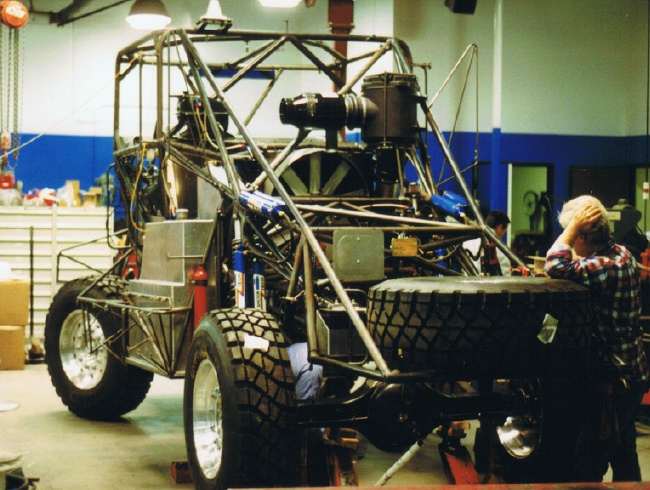 "Marty, You forgot the part about getting stuck in the sand going to the mini summit. Hence the need for 4 wheel drive. When we weighed this thing it weighed 10,400 pounds with two people in it and 40 gallons of fuel on board. And it promptly buried itself up to the diff when it saw the sand going to the mini summit. It took all three of our full sized, 3/4 ton, 4 wheel drive, Cummins powered chase trucks, chained together, numerous attempts to pull this thing threw the 200-400 yards of sand leading to the mini summit."