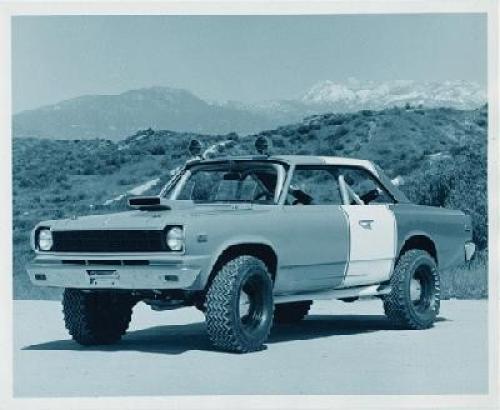 You may notice that we have been featuring a lot of articles recently about off road race cars like the Paris Dakar Rolls Royce , the Peter Brock Datsun 240Z that raced the Baja 500, and the James Garner Olds 442. When I started writing this article, I knew that there was a group of ten AMC SC/Ramblers that raced the 1969 Baja 500. Two were even converted to 4wd. As I started researching more, I came across this article on Hemmings and wondered if I really had to do any more research. The article really covered it all! It is really worth your time to check that article out!
This article was posted to the "Redliner Report", AMC's dealer newsletter. "Ensenada, Baja California, Mexico: An American Motors SC/Rambler from James Garner's American International Racing team won the PASSENGER CAR category June 11th-12th (1969) in the Baja 500 Off Road racing event, a automotive enduro race that stands as a challenge to both vehicle and driver.
A specially prepared team of bright red, white and blue American Motors' sedans was entered in Category 1 and IV. Category I is open to production two wheel drive vehicles while Category IV is open to four wheel drive experimental vehicles.
This race is sanctioned by NORRA (National Off Road Racing Association) and is considered one of the toughest endurance races in the world, negotiating hundreds of miles of rocky, dusty terrain through the remote Baja (lower) California peninsula.
Veteran Grand Prix race driver Bob Bondurant of Santa Ana, CA, with his co-driver, Tony Murphy of Los Angeles, CA, roared across the finish line in a SC/Rambler after 19 hours and five minutes of racing around a treacherous 550-mile long course that circles the upper 1/2 of the Baja California peninsula and return to the finish line in the center of the resort city of Ensenada. "The performance of our SC/Rambler was truly remarkable," declared Bondurant; "We experienced no mechanical trouble despite the tremendous pounding our car took on the course."
Bondurant and Murphy led two more American Motors SC/Ramblers home, gaining 3rd, and 5th place, as well as 13th place, in Class I before the rugged racing event was halted at the end of 30 hours. Finishing 3rd was Ed Orr of studio City, CA and J. W. Wright of North Hollywood, CA; 5th was Walker Evens of Riverside, CA, and Don Simpson or Hemet, CA; and 13th place was Dick Hansen of San Diego, CA, and Johnnie Crean of Riverside, CA.
Adding to this impressive victory was 4th place won by Carl Jackson and Jim Fricker of Hemet, CA, driving a experimental FOUR WHEEL DRIVE SC/Rambler in the rugged Category IV Class. Jackson & Fricker circled the hazardous, bone crushing course in 17 hours and 30 minutes!
A tribute was paid to the American International Racing Team Crew that prepared Jackson's-Frickers 4X4 SC/Rambler by Elmer Waring, chief Inspector for the NORRA's technical crew. "This four wheel drive vehicle was a real 60 day wonder," said Waring. "for it was created in two months and placed into competition against units with years of development and dozens of open competitive events. Carl Jackson, Jim Fricker and the SC/Rambler four wheel drive were outstanding."