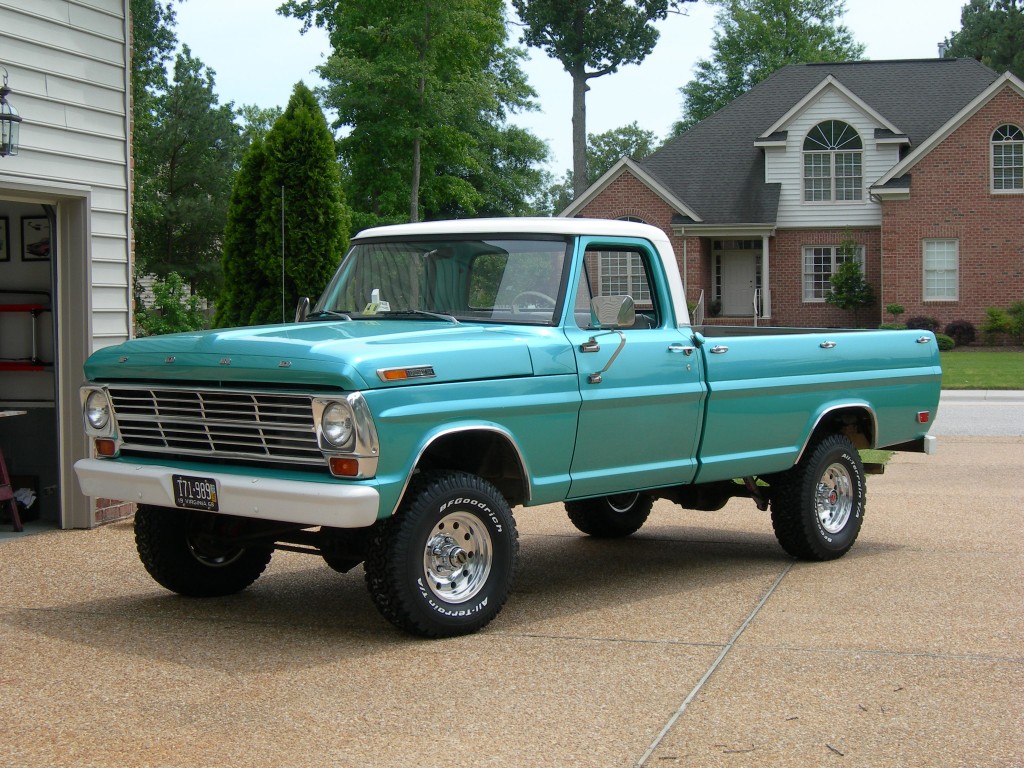 After seeing his truck in the lead photo in our 67-72 Ford 4×4 Truck Photos article, he sent in some photos and a great writeup on his truck. In fact, I will let him tell his story…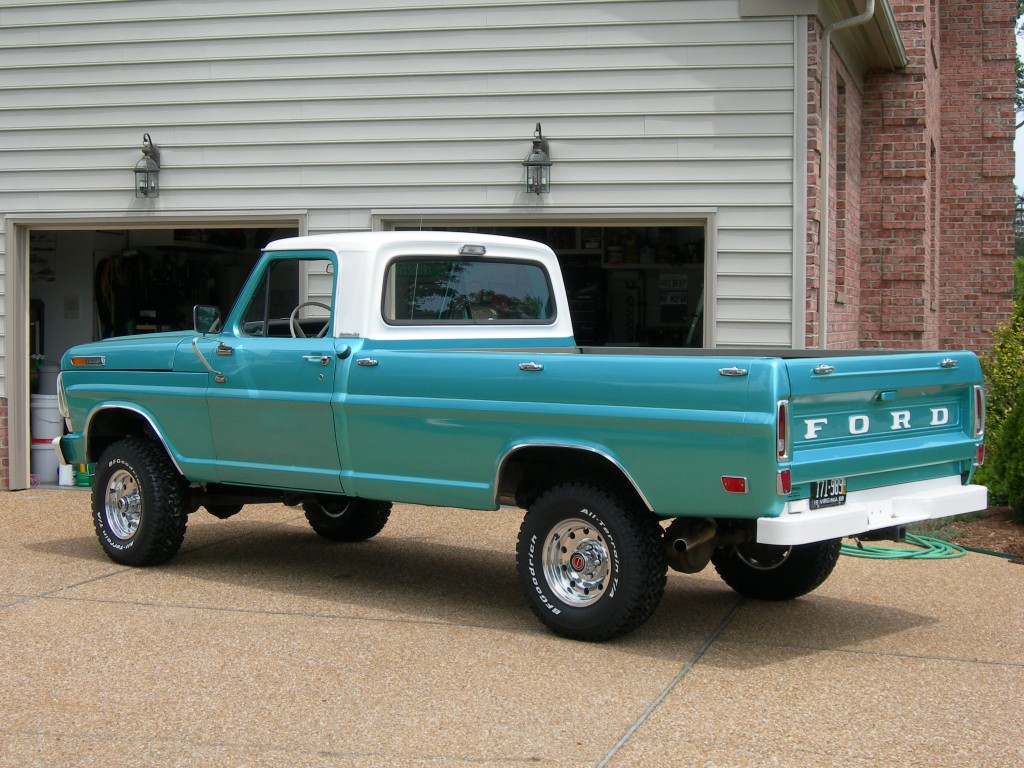 John DeKeersgieter, 42yo, Yorktown VA, computer programmer. I've been into cars and truck since I was little. I also own a 1970 Plymouth Roadrunner 383 4-speed, and my daily driver is a 2002 Dodge Ram 2500 V10 4×4.
1968 F100 4×4 details and photos:
The F100 is a western truck. It came out of Northern California and I learned about it while I was living out there 1998-2003. The previous owner was my wife's boss. It had been in his family as a daily driver 1992-1996. Starting in 1997, they restored the truck, rebuilding the engine, repairing bodywork, repainting the truck to a 1990s turquoise color, etc. I did some of the suspension and brake work for the previous owner, in 2001 and 2002, which is how I first came to know of the truck. I moved to Virginia in 2003 and the previous owner retired and moved to Oregon in 2004. By 2007 he wasn't driving the truck much. He knew I wanted the truck if he ever decided to sell, so we agreed on $7500 and I had it shipped to Virginia.
The truck's data tag is still present, and it decodes as:
– 68 F100 4wd
– 360″ 2v 179hp
– San Jose assembly plant
– 131″ (long) wheelbase
– U color code, Lunar Green
– 5600lb GVW (heavy weight rating option)
– New Process NP435 granny 4-speed
– 3.50:1 axle ratio (Ford 9″ rear, Dana 44 front)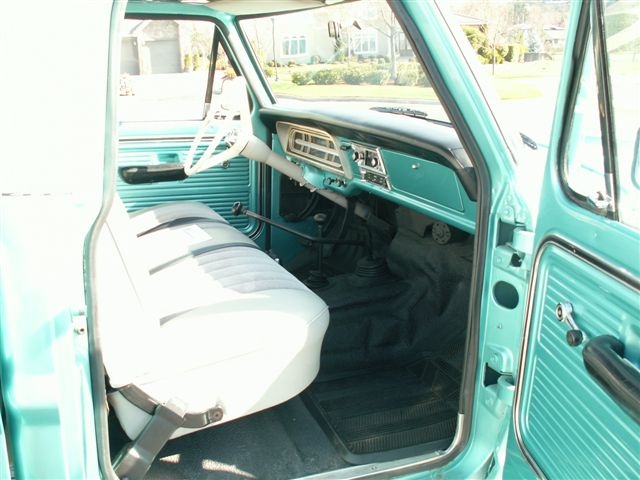 The transfer case is not called out on the data tag. It is a Dana 21 single speed model. With the low-gear 4-speed and light use, you can get by with the single-speed transfer case, but it's not a good, strong unit for serious four-wheeling.
The truck had 15×6 steel wheels and mid-70s truck wheel covers on it when I got it.
The 5600lb weight rating includes heavy duty 9-leaf rear springs which give the truck a pretty good rake. I wanted to level the truck, so I installed a set of Skyjacker +2″ front coil springs. A set of Skyjacker shocks were added as well.
To fill the wheelwells better, I mounted 31×10.5 BFG All-Terrain TAs on a set of 1990's F100/Bronco 15×7.5″ polished wheels.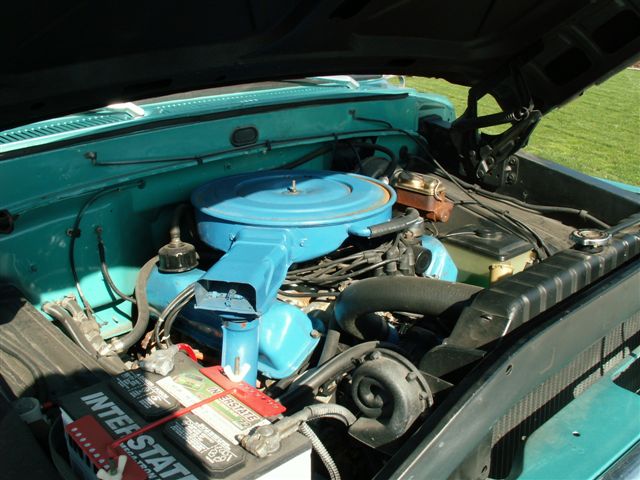 The engine is the original FE-series 360″ 2-barrel.
Bedliner is by Line-X, in a light gray color. I think the light gray color works much better than plain black would be with this truck.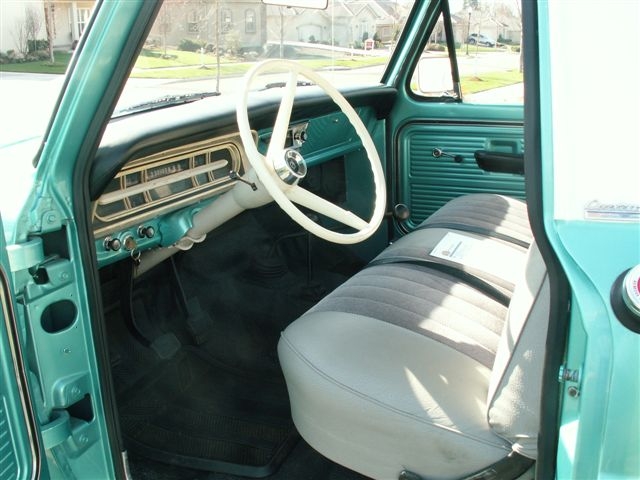 The interior is standard bench seat, but it has been recovered with new vinyl and cloth inserts. I upgraded the seatbelts with a set of shoulder harnesses from RetroBelt (not shown in photos below). The rubber mat is a reproduction and I really like the truck that way, I wouldn't want to install carpet instead.
This truck is a true beauty! Great job!