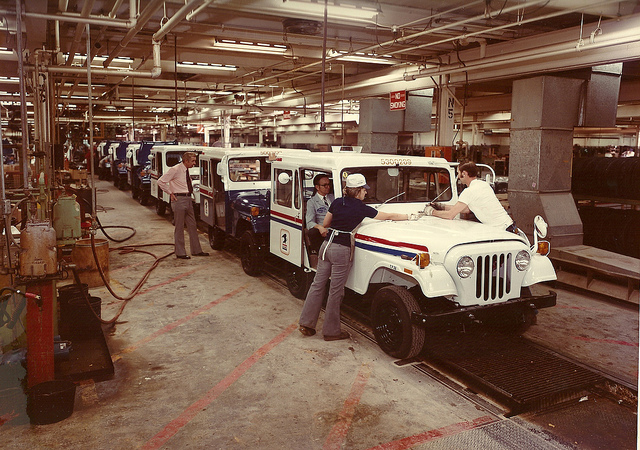 Nothing. They have nothing in common, except that Chris Brogan used the above photo of a US Postal Jeeps in a blog post. Chris Brogan is known as one of the leading business consultants and speakers in North America. He writes Entrepreneur Magazine and is involved in a number of business coaching and online mentor programs. So, needless to say, I was surprised to see the US Postal Jeeps on the assembly line photo in his blog post titled Organize Your Business.
Brogan starts the article by stating that most small businesses do not work like an assembly line. He goes on to show us how he organizes his business day. While process may not work for everyone, it shows how you can achieve greater success by having goals and strategies in place on how to meet those goals. Time management is a huge contributing factor to success in both your professional and personal life. Priorities need to be laid out at the start of each day. Brogan and his commenters talk about not checking email for a few hours. I personally find this instrumental in getting tasks done! If I check one email, I will check another. Then another. Before you know it, I am working on a totally different project. Or worse yet, surfing the web, Facebook or Twitter. What works for you? How do you lay out your priorities at work? At home?
We also must mention that the original photo came from Hugo90's Flickr photostream. Make sure to check out the rest of his vintage Jeep photos!