2018 Holley EFI Shootout
Sponsored by KMC, King and Action Sports Canopies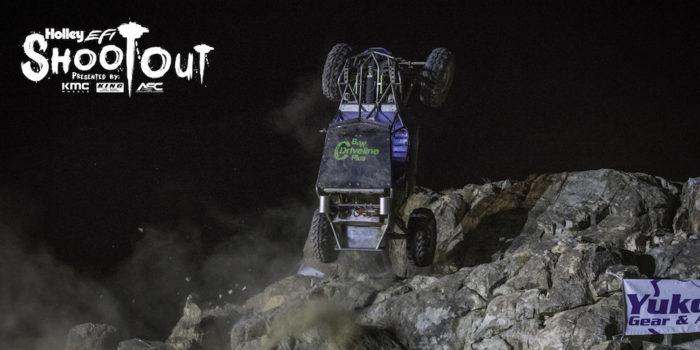 Ryan Webb Wins the Holley EFI Shootout, Jeff McKinlay Claims the Bounty Race
In front of thousands of spectators who lined the course in brightly lit cars and trucks, Ryan Webb's Team Kryptonite Kustoms rock bouncer from Louisiana beat out thirty racers including veteran bouncers like Bobby Tanner to win the 2018 Holley EFi Shootout Sponsored by KMC, King and Action Sports Canopies.

In 2018, the venue changed its location from Backdoor to an area approximately a half-mile outside of Hammertown to accommodate the growing popularity of the event. The new venue, which provided equally thrilling terrain has been unofficially named, "Frontdoor". It is the same hill the 4400 class has used for Qualifying for several years, only the Shootout directed drivers over a more challenging line.

Bounty Race
The Shootout became even more popular in 2018 when it added an additional challenge. Just as the Shootout ended, drivers were invited to try and scale an estimated 75-80 degree rock face known as Yukon Mountain. A $10,000 bounty was placed on Yukon and was awarded to the first driver who could scale the face. Every driver from the Shootout who was up for the challenge was allowed to compete and competitors ran in order of finish time from the Shootout—the fastest starting first.

As driver after driver failed to scale Yukon, with some getting close before crashing in spectacular style, it looked like no driver would accomplish the feat. Finally, with three drivers left, Jeff McKinlay from Rigby, Idaho, used smooth throttle control with the help of rear steering to claim the $10,000 purse. When he got out and climbed on top of his car on top of the rocky perch and threw his arms in the air, the crowd went wild.

A few minutes later, Cody Waggoner, who ironically paid the entry fee for McKinlay, became the only other driver to make it to the top of Yukon. While he earned bragging rights, only McKinlay took home the cash. These drivers were the only two to beat the rocks.

Best of Show
The most spectacular crash of the evening went to Adam Pierce during the bounty race. Pierce got almost to the top of Yukon, when his front wheels lost traction. His car went completely vertical before flipping down the rock wall and landing upright on its wheels. Both the driver and car were OK, and Pierce was able to drive away on his own.

Quick facts:
31 drivers from 15 different states took the start line and 26 finished.
One of the most popular drivers of the night was 9-year-old Cash LeCroy from Alabama. Also known as "Cash Money", Cash drove a custom RZR and beat men four-times his age to finish 8th.
While several drivers signed up for the Shoot Out to use it as an LCQ for the main race on Friday, only one entered, Adam Pierce. Pierce finished 11th, just missing the LCQ spot by one. (Drivers had to finish in the top 10 to advance.)

Results
1 Ryan Webb: 16.48
2 Bobby Tanner: 16.73
3 Jason Gray: 17.39
4 Adam Ringer: 18.93
5 Brian Tempe: 19.4